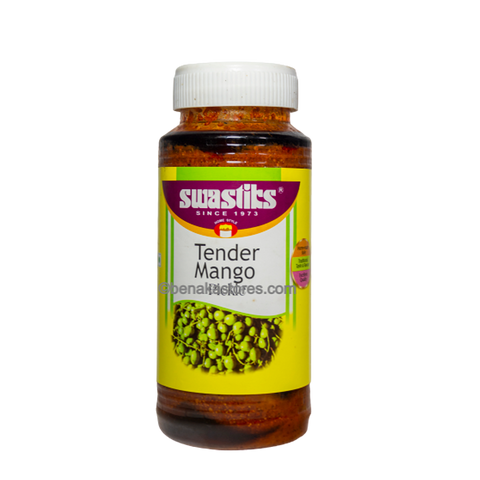 Tender Mango Pickle
Tender mango pickle, also known as "maavina midi uppinakayi" in Kannada, is a popular South Indian pickle made from small, complete tender mangoes. These mangoes are handpicked at a young stage when they are still green and not fully ripened. The pickle is prepared by marinating these mangoes in a blend of specialty spices.
One of the highlights of this pickle is the chewy texture of the tender mangoes, which adds a unique mouthfeel to any meal. Additionally, the pickle water is a flavorful liquid that can be licked or mixed with rice. The taste of the pickle water is tangy, spicy, and slightly sour, making it a popular accompaniment to any Indian meal.
Tender mango pickle is especially popular during the summer months when mangoes are not in season. It is a great way to enjoy the tangy and sweet flavor of mangoes throughout the year. Tender mango pickle is a versatile condiment that can be paired with a variety of dishes, including rice, chapati, dosa, and more.